Well it could be a new feature, seeing as I have got a few promo CDs to review, mostly from going to my first Junction 11 music meeting, something I've meant to do for a while but have either a) forgot about it or b) had work to do at the time, but I've decided that since I actually received a offer of a good album from a record company purely through this blog I thought that I'll leave my postal address now open to (hopefully) more good promo CD albums, did I mention
my Junction 11 show on Tuesdays from 10am
, anyway I have a few CDs to review, starting with the new album from The National.
The National-Boxer (
Beggars Banquet)
The National follow up their 2005 breakthrough album 'Alligator', and retain their downbeat, melancholic sound (some would say depressing), vocally a mid-way point between Ian Curtis and Michael Stipe, Matt Berninger continues to deliver in his own monotone style. All this suggests that this album is depressing, and lets be honest it certainly isn't a 'soundtrack to the summer' type album, however there is more to this then deppression, from the opener 'Fake Empire' which begins with a simple but evocative piano track through songs like 'Guest Room' which sounds like a otherworldly version of U2 before they became MOR, the whole album shines through with a surprisingly rousing beauty which overcomes the superficial 'depressing' tag, this album will get under your skin and become a 'soundtrack to your soul'.
Score: 9/10
Candie Payne-I Wish I Could Have Loved You More (Deltasonic)
Opens with what can only be described as a blast from the past, almost verging on 'James Bond' theme music territory, single and album opener 'I Wish I Could Have Loved You More' sounds like its been pulled right from the 60s a fact acknowledged by the replicated needle scratches at the end, the same can be said for the whole album. The influences of the likes of Dusty Springfield although vocally Candie Payne doesn't quite rise to the level of the greats, then again not many do. The album has a rich sound, and changes between upbeat and downbeat at points beginning to sound like more recent artists, like 'A Different You' which could almost fit on an early Bjork album. Overall if you enjoy the sound of 60s revival from the likes of The Coral, The Zutons (Candie Payne also comes from Liverpool and is signed to Deltasonic) and The Pipettes, then you'll almost certainly enjoy this sonically large and vocally soulful (and occasionaly both at the same time) offering which just might become the sound track to lazy summer evenings.
Score 8/10
Seymore Saves the World-S/T (Royalty, Etc)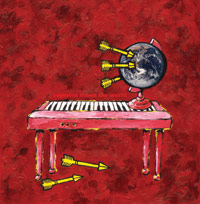 Keyboards, keyboards and more keyboards, all three members of SSW are credited as playing them, and they are at the core of the bands sound, which is ultamately highly jaunty and appealing as it is keyboardy (thats not even a word), they mostly sound a mix between fellow Minneapolis band Tapes 'n tapes and Hot Hot Heat although perhaps add some anti-depressants into the mix, although lyrically more downbeat the uptempo keyboard sounds do tend to drown out the vocals. All in all a fun pop album which undoubtedly shows its strongest card first with the rather excellent 'Love Song', which is The Feeling but actually good, the rest of the album is still good, but that song shows off the real potential of the band.
Score: 7/10
MP3s:
The National-Fake Empire
Seymore Saves The World-Love Song
Buy:
Seymore Saves The World-S/T
Pre-Order (released May 21st)
The National-Boxer
Candie Payne-I Wish I Could Have Loved You More